MassageGun - Fit Peak
DO YOU SUFFER FROM SPORTS-RELATED ACHES OR PAINS?
MassageGun is a revolutionary massage gun that aims to help release your muscle tension and aches. Take advantage of our current offer at -50%.

The massage gun that will relieve your aches and tensions!
What is MassageGun?
MassageGun is a percussive massage gun that helps you relax muscle tension related to sports activity. When you turn on MassageGun, it will start oscillating back and forth (30 levels of adjustable strength). Just hold it against the sore spots on your body to use. MassageGun helps to speed up blood circulation, which leads to the breakdown of lactic acid and therefore relieves your aches and pains. The gun comes with 6 optional massage heads.

This allows you to better target the areas of your body that are hurting. This revolutionary technology is used by physiotherapists and osteopaths.
What is MassageGun?
Created to relieve muscle tension and aches.
Can be used everywhere (shoulders, torso, abs, back, legs, buttocks...)
Easy to use, and safe for your body
Transportable, take it to training on battery power
Silent, it does not exceed 50 decibels
30 adjustable force levels. Ideal for severe pain
Comes with a protective case and accessories

I want my MassageGun >>
They are satisfied with their MassageGun!
Excellent nothing else to say - 5/5
"I bought this brand new massage device because a friend of mine who is a physiotherapist told me about it and recommended it to me for its benefits... So I let myself be tempted and I really recommend it to everyone. people like me with body aches, sciatica, cruralgia..."
Marianne N.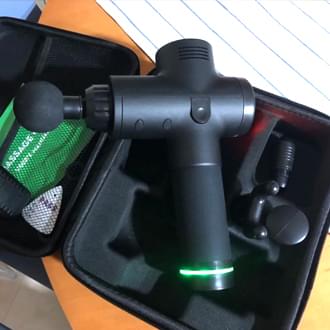 Accurate and easy - 4.9/5
I did a lot of research on the right massage gun to buy... It's quieter than most and very easy to use on myself or someone else. I suffer from chronic pain and this gun has worked very well for pain relief. I recommend!
Philippe R.
Super Massaging Gun - 4.8/5
A real professional massage gun. I use it for me who is athletic and for my father who suffers from back problems... the feeling is very pleasant, the various heads allow you to do any type of massage on any muscle.
Jérôme L.